Faliraki is a young resort in Greece, so it is great for those who prefer a comfortable stay with all amenities. The city is constantly inhabited by only a few thousand people who were lucky enough to wake up every morning to the sound of the Mediterranean Sea. More than 2 million tourists visit Rhodes every year. Where are the best beaches in Faliraki? Where can I go with my children, and where do they spend the hottest nights? The answers to all questions about holidays in Faliraki are in this article.
Things to do: entertainment and attractions
The village of Faliraki is the pearl of the island of Rhodes. It some of the best shopping centers in Greece, a huge water park, chic restaurants and noisy cafes. Despite the fact that the resort is quite young, historical sights can also be seen. A week is not enough to get around all the beautiful places of the city. Therefore, if your time is limited, some of the must visit sights of Faliraki are listed below.
Astronomical cafe
The only cafe observatory in Greece is located on a mountain near the bay of Anthony Quinn. Over there one can not only learn a lot about space, look at the moon and stars through a telescope, or play with astronomical toys, but also enjoy views of the beaches of Faliraki.
Entrance to the cafe and observatory is free, but each visitor must buy something – whether it be coffee or a full meal. The institution constantly plays music, serves refreshing cocktails and delicious crepes. The average price of dessert with a drink is 2-4 euros. Exact address: profet ammos area, Apollonos. Opening hours: daily from 1800 to 2300.
Important! Getting to the astronomical cafe on foot is physically difficult, we advise you to go there by car.
Church of St. Nectarius
The church, built in 1976, is striking in its beauty. The whole complex consists of a temple and a bell tower made of terracotta stone, inside there are spectacular murals and unusual paintings, in front of the temple there is a small area lined with pebble patterns.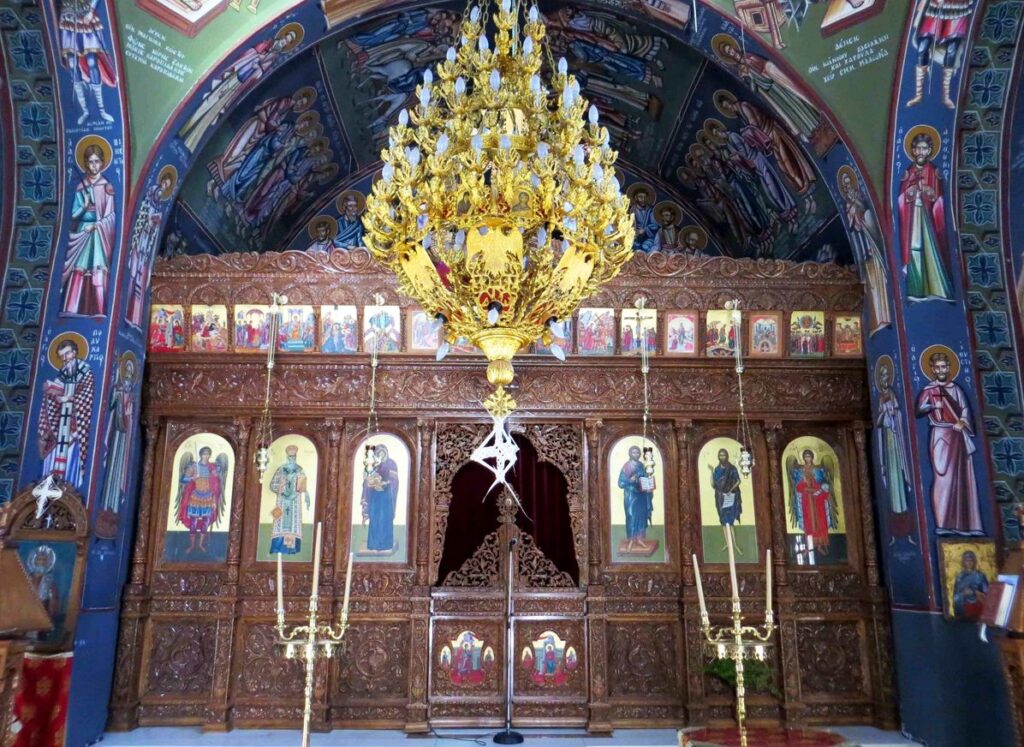 The two-story church of St. Nectarius is a smaller "sister" of the temple of the same name, located in Rhodes. This is an active Orthodox cathedral with ennobled territory; church music often plays there and services are held. Like in all Greek churches, one can use scarves and skirts for free, light a candle for a voluntary donation, drink and wash with holy water from a spring at the entrance over there. Usually there are few travelers in the church, but on weekends, especially on Sundays, there are many parishioners with young children. The temple is open daily from 8 am to 10 pm (from 12 to 18 siesta), the exact location is Faliraki 851 00.
Advice! If you want to take spectacular photos of the temple, go there in the evening, when church employees turn on multi-colored lights.
Aquapark
The largest water park in Greece and the only one in all of Rhodes is located in the northern part of the city at Rhodes 851 00. Its total area reaches 100,000 m2. The entry price is 24 euros for an adult, 16 € for children.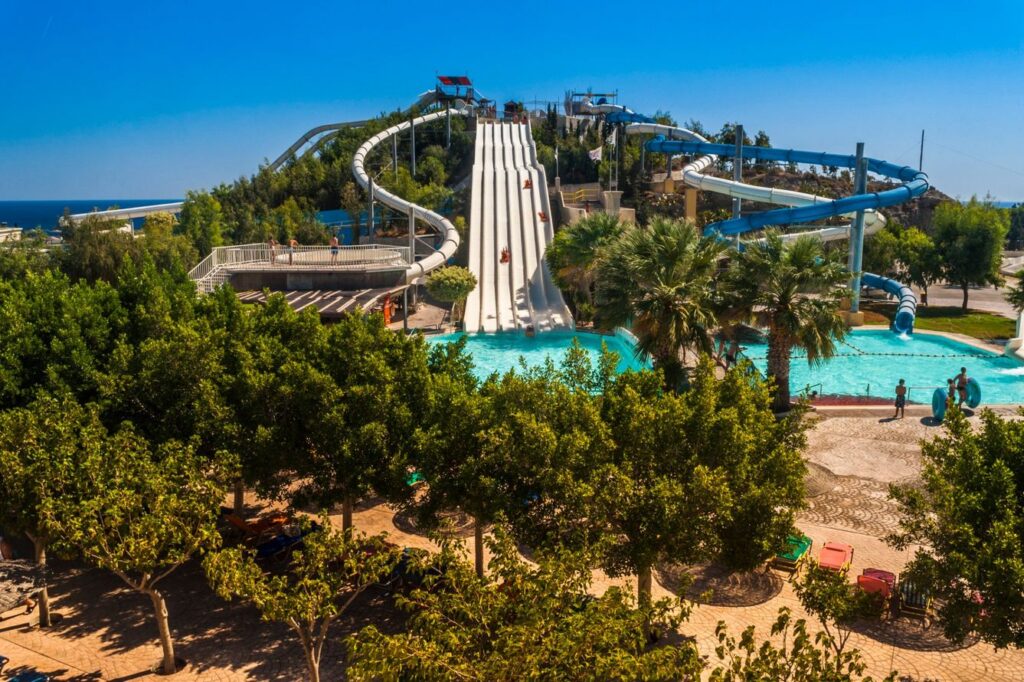 The water park has more than 15 slides for visitors of different ages, a wave pool and a water playground. In addition, there are all the amenities for a comfortable stay and various establishments: a cafe (burger – 3 €, french fries – 2.5 €, 0.4 l of beer – 3 €), a supermarket, free toilets and showers, sun loungers, left-luggage offices (6 € deposit, 4 € return with things), beauty salon, souvenir shop. This is a great place for active holidays with the whole family.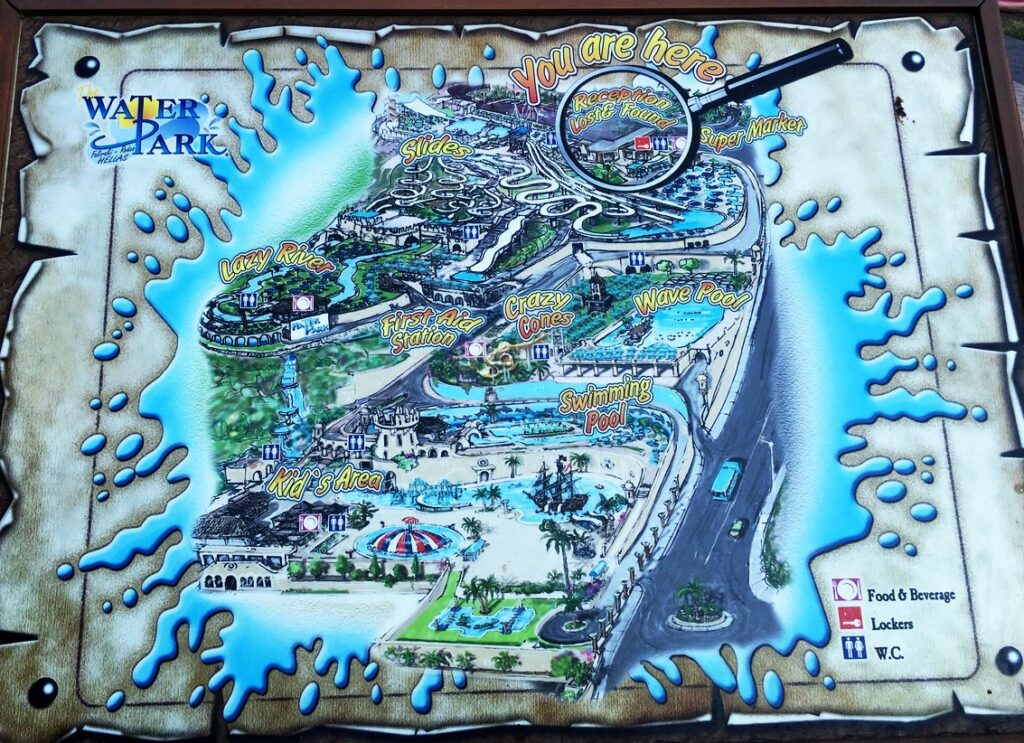 Opening hours: from 0930 to 1800 (in the summer to 1900). Opens in early May, closes with the end of the beach season in Greece – in October. The best time to visit is in the summer, as a strong wind blows high slides in the fall or spring.
Pay attention to the weather before going to Faliraki Waterpark. The administration of the institution will not refund the entrance fee, even if it starts to rain, and you will be forced to leave ahead of time.
Kallithea Springs Bath
Mineral thermal springs are located on the outskirts of the village, a couple of kilometers south of Rhodes. One can swim in the healing warm waters at any time of the year, take beautiful photos from Faliraki against the backdrop of artificial waterfalls, and admire the natural scenery. Kallithea Springs is a small sand and pebble beach with sunbeds, a bar and other amenities. The water there is always calm and warm, and the slope is shallow, so in the season you can meet many families with children. In addition to sources, Kallithea Springs is known for its regular exhibitions, which are held in a large rotunda.
The entrance fee from 8 am to 8 pm is 3 € per person, children under 12 years old are free.
Important! Be sure to bring your masks with you, as this is one of the best snorkelling spots in all of Rhodes.
Beaches
The best seaside resort in Greece offers vacationers 8 beaches with different surfaces. Find out in this section which sea is in Faliraki, where are the nudist zones and where to go with children.
The main beach of Faliraki
The four-kilometer beach, covered with golden sand, is located a kilometer from the water park Faliraki. The bottom is visible through the crystal clear water, and the city administration carefully monitors the state of the coastal zone. There is a convenient entry into the water, shallow, no stones and a very calm sea – this place is suitable for families with children.
The main beach of Faliraki has all the necessary amenities: sunbeds and umbrellas (9.5 euros per couple, free until 11am), showers and toilets, cafe and bar (coffee – 2 €, meat dish – 12 €, salad – 6 € , a glass of wine – 5-6 €). In addition, tourists are offered a wide selection of entertainment, including:
"Banana" – 10 minutes 10 euros;
Water skiing – 25 € per circle;
Parasailing – 40 € per person;
Rent of motor trays – 55 € / hour, catamaran –15 € / hour, jet ski – 35 € / 15 minutes;
Windsurfing – 18 €.
An interesting feature of the beach is the presence of a nudist zone. There are also umbrellas and sunbeds (5 €), "bananas" and a rental area, showers and toilets. This part is hidden from the views of others in a small bay, to get there by accident and seeing something that you don't want is not a possibility. Some of the negative points of the beach are:
Lack of rubbish bins.
High attendance in season.
 Traounou Beach
7 km south of Faliraki is the large and wide Traounou Beach. It has fewer tourists, a clear sea and a clean coast, covered with large pebbles. Entering the water is convenient and gradual, but after 4 meters from the shore, the depth exceeds 2 m, so one must carefully monitor the children. Away from the coast there are a lot of fish and beautiful algae, do not forget to take masks. On this beach of Faliraki (Rhodes) one can take great photos.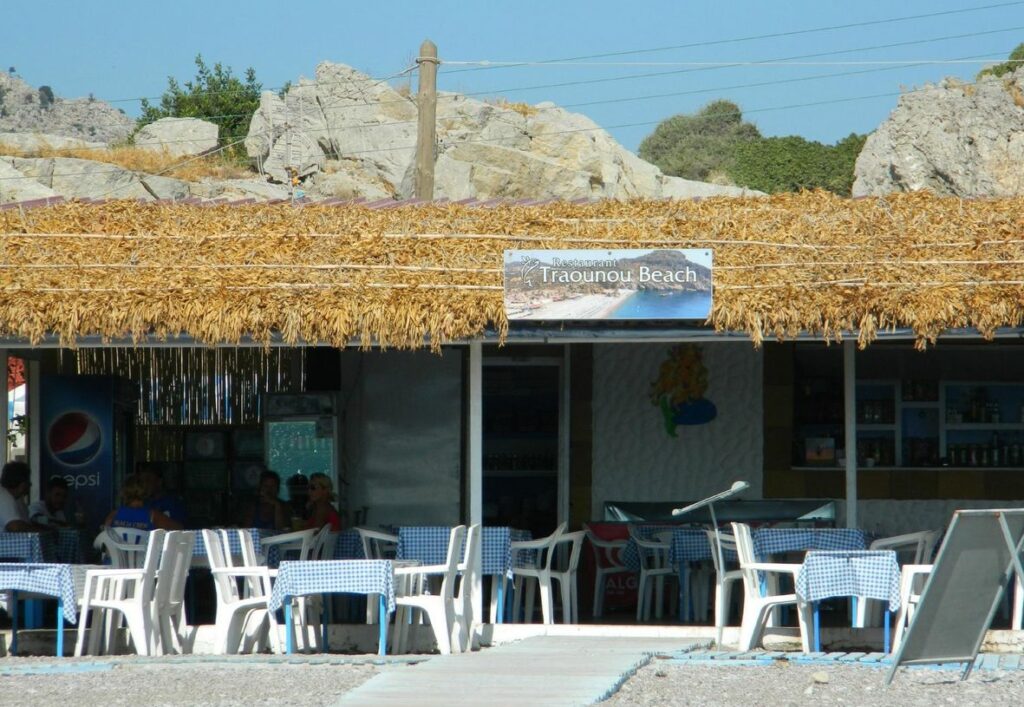 Renting sunbeds and umbrellas for Traunu costs 5 euros per day, but you can do without them, sitting on your own bedding. On the beach there is a tavern with low prices, Wi-Fi, a shower, changing rooms and a toilet are available. On weekends, the locals of Rhodes go to the beach, many tourists do not come even in season. Among the shortcomings, the absence of trees and natural shade is noted; a small number of toilets (only next to the cafe); lack of active entertainment and shopping.
Anthony Queen
This beach has become one of the most popular in all of Greece after filming the movie Greek Zorba with Anthony Quinn in the title role. Covered with small pebbles mixed with sand, it hides in a small bay surrounded by many tall plants, 4 km south of the village.
This place is unique in terms of fauna – diving (diving 70 € / person) and snorkeling enthusiasts (rent 15 €) go there from all over Greece. In summers, one can find a free sunbed on Anthony Queen's beach only in the early morning, but you won't be able to relax on your coverlet, since the coast is very small and there is practically no space free from amenities.
On the territory of this beach Faliraki (Rhodes) there are several toilets and showers, locker rooms. The water here is calm all year round, as this is not the Mediterranean Sea itself, but its emerald bay. An amazing view of the surrounding cliffs covered with green plants opens from the shore. Some of the shortcomings of this beach are as follows:
Lack of infrastructure and entertainment;
Small territory and a large influx of tourists.
Mandomata Nudist Beach
This is the largest nudist beach in the village of Faliraki and the island of Rhodes in general. From the outskirts of the city one can get there in just half an hour, but at the same time it is not visible to prying eyes, so finding it is quite difficult. Over there one can enjoy the beauty of untouched nature, plunge into the warm and clear sea, relax in the shade of trees to the sound of water. Unlike other nudist beaches in Greece, you can rent a sunbed and an umbrella, use a shower and even relax in a tavern located right on the coast. Please note that entering the water here is not very convenient, since it is filled with fragments of rocks – be sure to take slippers for swimming. In general, the coast is strewn with small stones covered with sand.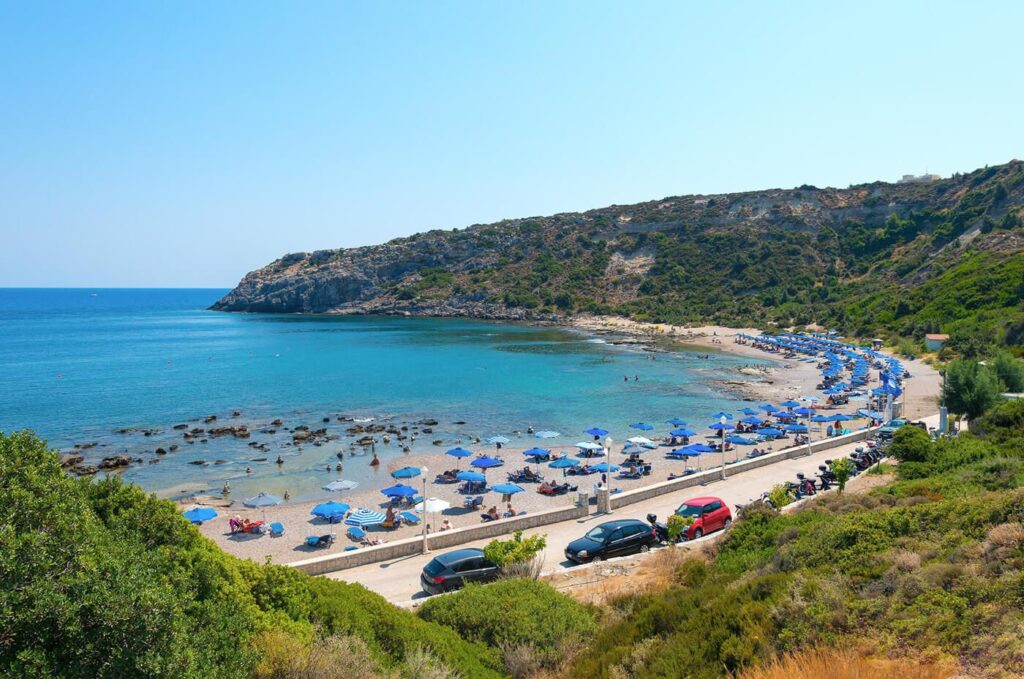 Some of the shortcomings of the beach are as follows
No entertainment or shopping;
Hard to get there.
Important! This nudist beach of Rhodes belongs to the "mix" category, that is, both women and men have a rest here.
Thassos
The beach is hidden in a picturesque rocky bay 7 km from the city. This place is not suitable for lovers of sandy descent into the water as the beach is covered with large and small stones. Sunset at sea is not very convenient, metal stairs are installed in places, it is better to bring special shoes with you.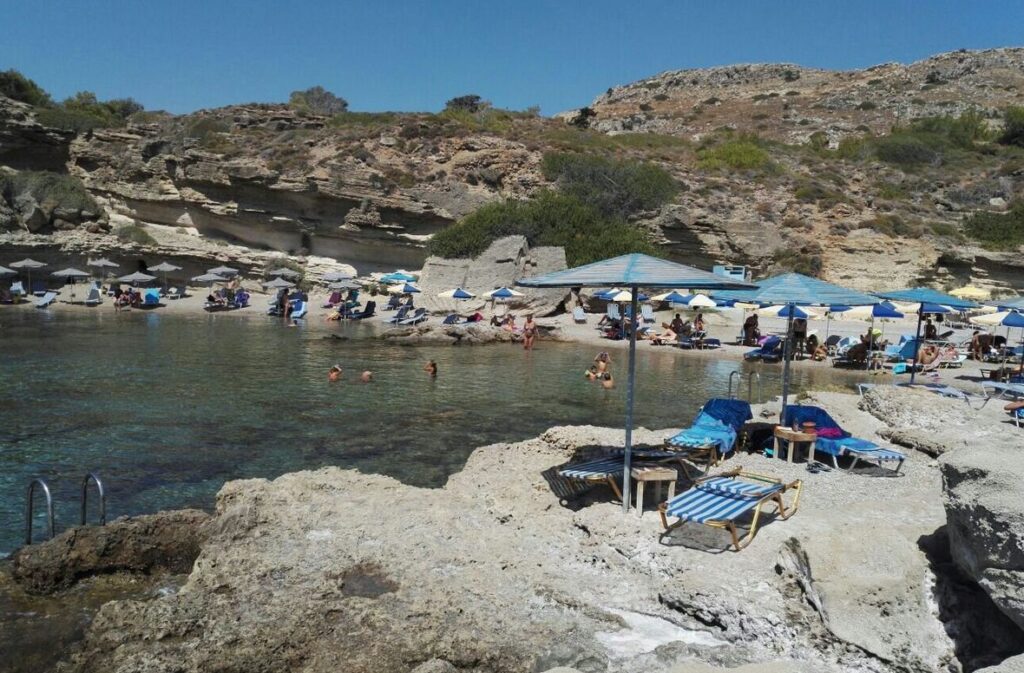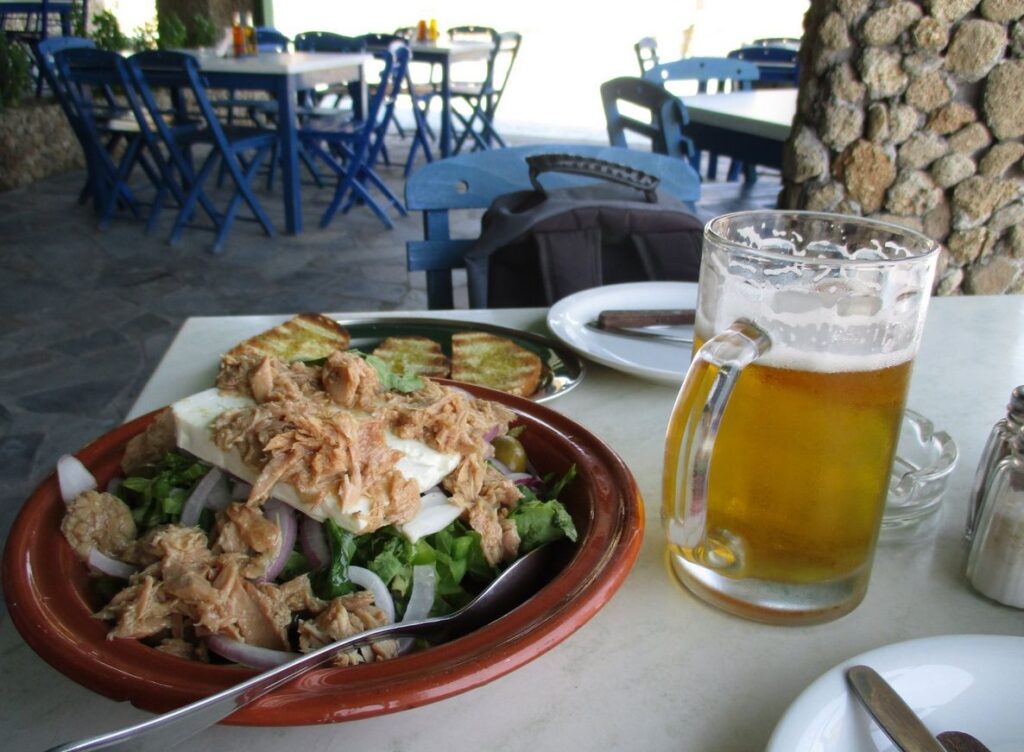 Despite the fact that the beach is completely rocky, there are also all the necessary amenities: sunbeds, umbrellas, showers, toilets and changing rooms. The infrastructure is not very well developed, but nevertheless there is a good beach cafe on Thassos, which serves Greek national cuisine and delicious seafood. Free Wi-Fi is available throughout the beach. Great place for snorkeling. Disadvantages: inconvenient entry into the water, undeveloped infrastructure.
Ladiko
Popular in Greece, Rhodes beach is located three kilometers from Faliraki, next to the coast of Anthony Quina, in a small picturesque bay. There are fewer tourists, since the entry into the water is quite sharp and the great depth begins already after 3 meters, which is not suitable for families with children. The sea is clean and calm, deep, you can snorkel from huge boulders located directly in the water. Of the activities most represented are snorkeling and diving.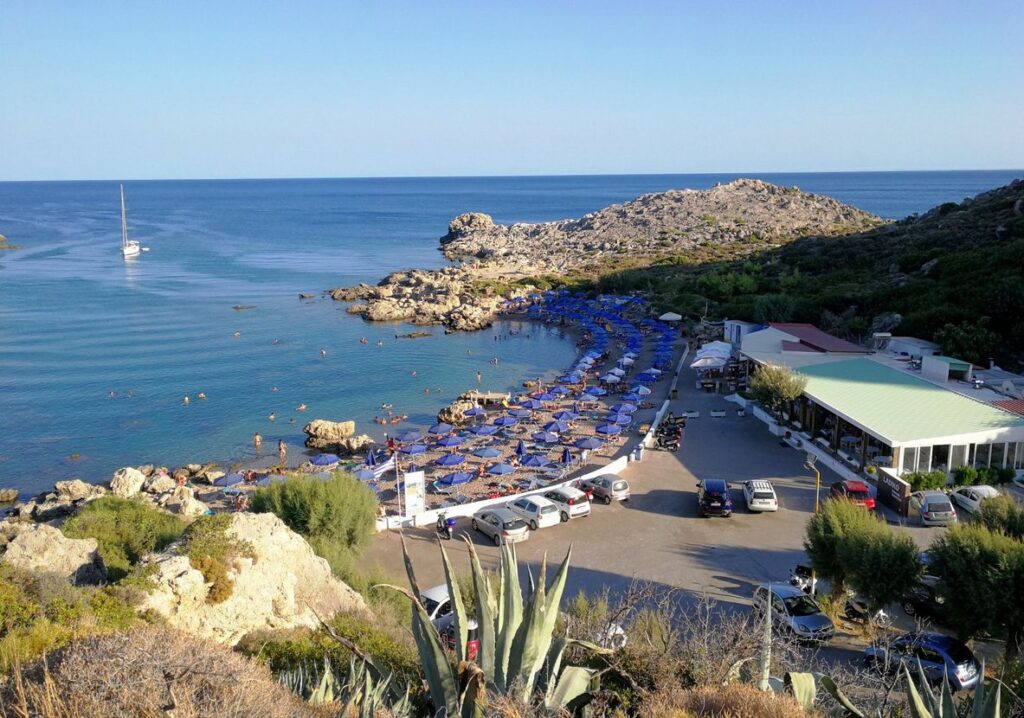 Ladiko is actually divided into two parts – sandy and rocky, so over there one can take unusual photos against the background of the sea in Faliraki. On its territory there is a basic set of amenities: sunbeds and umbrellas (10 euros per pair), toilets and showers, a tavern is built nearby (cocktails for 7-10 euros, smoothies and juices – about 5 €). There is not much space on the beach, so if you want to relax on your bedspread, come to the coast by 9am.
Carefully! Do not swim on this beach without special slippers, as you can injure yourself on the stones at the bottom.
Some of the shortcomings of the beach are as follows:
You can not relax without a sunbed;
It is inconvenient to go into the sea;
Many people.
To Tragana
4 km from Falikari there is a wide, sparsely populated pebble beach. It captivates tourists with its unusual beauty: high cliffs, amazing caves, emerald-colored bay. The water there is very clean, the depth begins almost immediately, the entry into the water is gradual, but the bottom is stone. Most of the territory is empty.
Tragana has all the basic amenities: sunbeds and umbrellas for 10 euros per day, fresh water showers, changing cabins and toilets. Due to the fact that the coast of the beach stretches for several kilometers, one can stay on their bedspreads in any corner of the coast. Disadvantages: the northern zone of Traganu is completely allocated to the military and is closed to ordinary tourists. The fact that you entered the forbidden territory, you will be notified of the plates with the appropriate inscription.
Interesting fact! They say that on Tragana, in comparison with the rest of the beaches of Greece and Rhodes, there is cold water, since springs hit the local caves. In fact, this temperature difference does not exceed 2 ° C.
Katalos
The small pebble beach is just 2.5 km from the outskirts of the city. Its length is about 4 km, so even in high season every traveler can find a secluded place to relax.
Kathalos is not the best beach in Rhodes for families with children. It is next to a very calm sea, a clean coast and untouched nature, but after 6 meters from the coast, the water reaches 3-4 meters in depth.
The beach has all the necessary amenities and several places for entertainment. A deck chair and umbrella can be rented for 12 € per day, changing cabins, toilets and showers are free. On Kathalos there is not only a bar and cafe, but also on-site service, which allows you to enjoy cold drinks, not looking up from the beautiful sea coast Some of the shortcomings of the beach are:
The beach is not very suitable for snorkeling, as there is little living creature;
It is dangerous to relax with children;
Virtually no entertainment.
Night life
Faliraki is an amazing city that embodies two characteristics at once: a great place for families and also the tag of being "Ibiza of Greece". We will talk about nightlife in the city in the section of the article. What does Faliraki turn into in the dark and where can one have good fun?
Night clubs
The two central streets of Faliraki, Bar street and Club street, are the main district of the city, where life boils around the clock. It is here, under the incendiary music, tourists come off from different parts of the world.
Q-Club
 is the most famous disco of the city with the latest hits, breathtaking drinks and several dance floors. The entertainment there does not finish off in the morning or at lunch, as the Q-Club is happy to welcome active youth around the clock. The prices for holidays in this club are acceptable – drinks from 6 €, a full meal – from 28 €.
Champers
For tourists of a slightly older generation Champers club is suitable. Over there at night people dance to the hits of the 70-80-90s. The cost of alcoholic cocktails is not much different from the previous institution and is approximately 6-7 euros.
Patti's Bar & Diner
 is a great club for lovers of rock and roll and retro. It is located in the very center of the city and attracts not only with its interesting interior, but also with delicious steaks at a low price – from 10 € per serving. Drinks can be purchased for 6-7 €.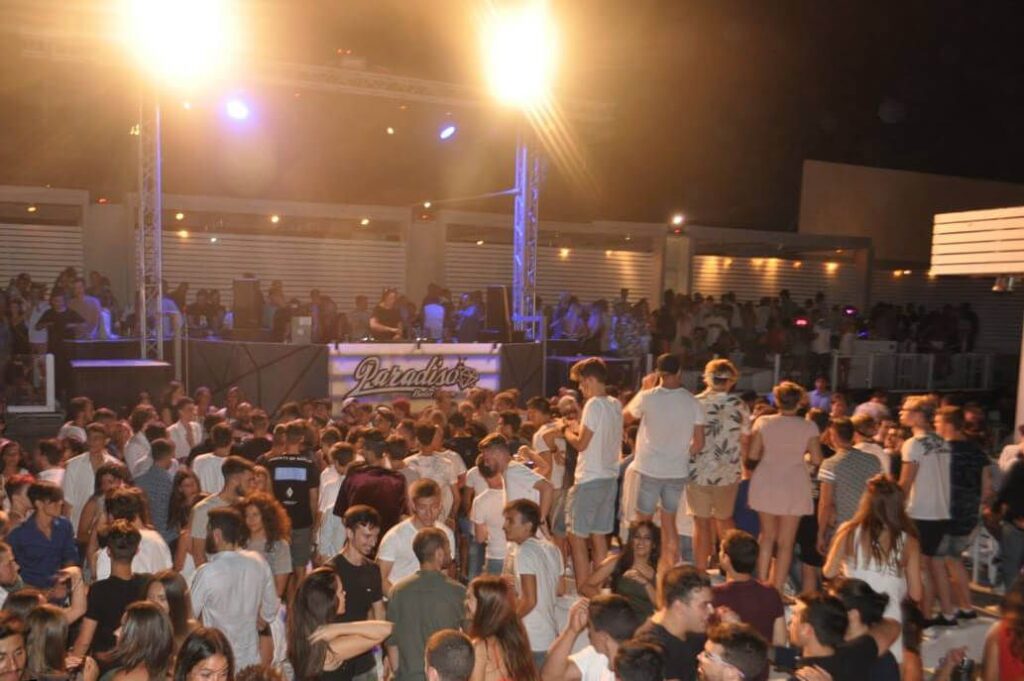 PARADISO
 is a premium night club with insanely high prices and world-class DJs. It is rightfully considered the best in all of Greece, but more than one thousand euros may be needed for a vacation here. Entrance to all nightclubs in Faliraki is paid, the cost ranges from 10 to 125 euros per person. Please note that you can relax in them for free, but only until midnight – before the disco.
Other entertainments
In addition to nightclubs, you can have a great time in bars, casinos, sports pubs or at beach discos:
Best bars: Jamaica Bar, Chaplins Beach Bar, Bondi Bar;
The largest casino is located in the Roses Hotel;
Sports pubs are mostly located on street bars, the most popular being Thomas Pub.
Important! The real "Ibiza" in Greece begins only in mid-June, keep this in mind when choosing holiday dates in Rhodes.
Accommodation
As in all of Greece, the prices of accommodation in Faliraki are very dependent on the season. In summer, you can rent a double room in a 2-star hotel for at least 30 €, 3-star for 70 €, four for 135 € and five-star for 200 € per day. The best hotels, according to vacationers, are:
John Mary The aparthotel is a 9-minute walk from the beach, with fully equipped studios. There is a terrace, with balconies overlooking the sea or garden. The minimum price for a vacation is 80 €.
Faliro Hotel. The nearest beach can be reached in 5 minutes, two kilometers is the bay of Anthony Quina. This economy hotel offers basic rooms with a balcony, air conditioning and a private bath. Double room will cost at least 50 € / day.
Tassos Apartments. Apartments with a pool are a 3-minute walk from the beach. Each room has its own bathtub, kitchen, air conditioning and other amenities. The hotel has a bar and terrace. Price for a double room – from 50 € / day.
Important! The indicated prices for vacations are valid in high season and are subject to change. Typically, from October to mid-May, they drop by 10-20%
Restaurants and Cafes
Food prices in Faliraki are on the same level as other resorts in Greece. So, the price of one dish in an inexpensive restaurant on average reaches 15 €, a complex three-course dinner in a regular cafe – 25 €. The cost of coffee and cappuccino varies from 2.6 to 4 € per cup, 0.5 liters of craft beer and 0.3 imported will cost 3 € each. The best places in Faliraki:
Desert Rose. Mediterranean and European cuisine. Reasonable prices (fish platter – 15 €, salad – 5 €, meat mix – 13 €), free desserts as a gift.
Rattan Cuizine & Cocktail. Unique dishes are served, such as risotto with cuttlefish ink and linguines with seafood. Playing live music.
How to get to Faliraki
The most convenient way to get to the city from Rhodes International Airport, located 10 km from Faliraki, is to book a transfer. But, fortunately, the city has a well-developed network of buses, and you can get to the resort by the minibus Rhodes-Lindos (get off at the Faliraki stop). Ticket price – about 3 euros per person, cars depart every half hour. The first bus leaves Rhodes at 6:30, the last at 23:00. You can take the same route by taxi, but just note that this is not a cheap pleasure – a trip from Rhodes to Faliraki can cost 30-40 €. In some circumstances, it is more profitable to rent a car or motorcycle, we advise you to do this in one of the agencies of tour operators, so as not to pay a deposit for rent.
Faliraki (Rhodes) is a great place for any traveler. Get to know Greece from its best side – from the golden coast of Faliraki. Have a nice trip!