VAGHIES
The beach of Anthony Quinn is situated on the eastern coast of the island, right after Faliraki. The beach is found within a small cove, officially called "Vaghies". It is some 250 meters long and 10 meters wide, with fine sand, pebbles, and rocks, both out and inside the sea. The pine trees, some of them just at the edge of the sea, contribute to the nice emerald colors of the environment. This is the best beach for those who like gazing on rocks, swimming in a secluded lagoon, snorkeling, and diving. All the sailboats and excursion boats have a stop for swimming in this bay!
WHY "ANTHONY QUINN'S" BAY
While filming the movie "The Guns of Navarone," the Mexican actor Anthony Quinn bought this part of the island hoping to create an international center for artists and film-makers. He felt in love with this miniature bay. Unfortunately, this did not become a reality despite his tries and investments. Locals got used to calling it the "Anthony Quinn's" bay, so this name persists to this present day.
BEACH FACILITIES
The beach is easily accessible by road. Make sure to arrive early at the beach! There is not a lot of parking space. Sun lounges & umbrellas are available for rent at approx. 5 Eur p.p. There is a little taverna situated near the top of the stairway offering a variety of snacks, salads, and cold beverages. There are some beach activities like kayaking, snorkeling and scuba diving (equipment is available to rent at the beach).
UNFORGETTABLE HIKE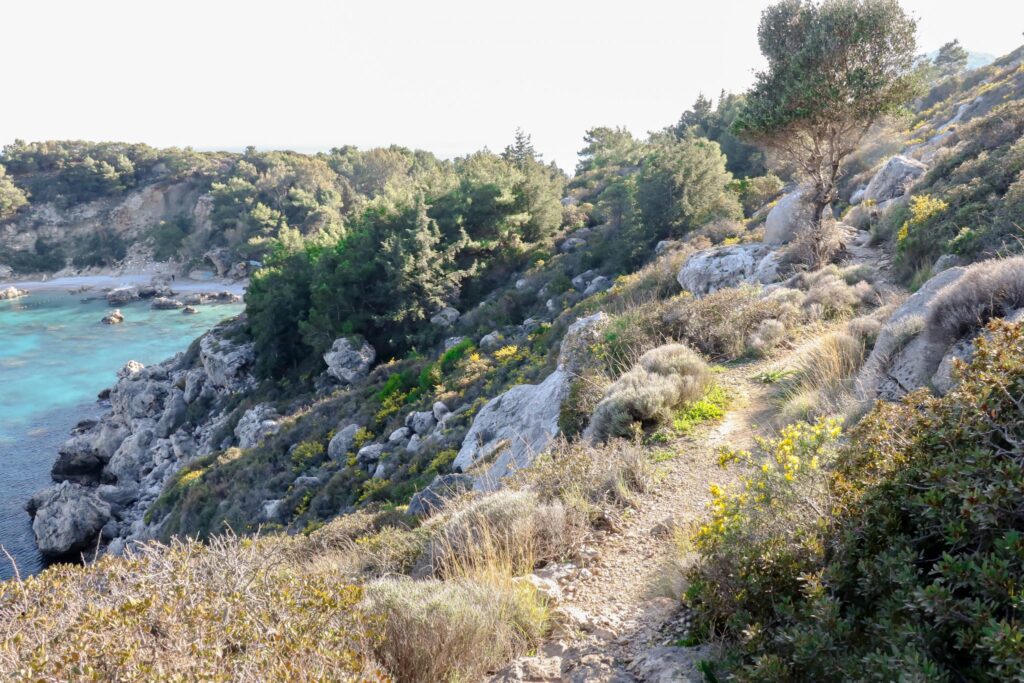 Why not bring some sport shoes with you, because the rock surrounding the Anthony Quinn is ideal for a great hike! There is a cliff-side path leading to the southern side of Faliraki. While it is rather challenging due to rocks and the uneven surface, the views are astonishing and worth the climb! You will find the beginning of the footpath on the left-hand side of the beach. The path leads to the observatory and reaches 126 m height (414 feet).
TRANQUIL SURROUNDINGS, SWIMMING, SUNBATHING, TURQUOISE CRYSTAL CLEAR WATER… SIMPLY MAGIC…WE LOVE THIS PLACE!